Yes. I know you are all just
so
interested in my footwear. I mean, who
wouldn't
be?
So I got the votes in on the shoe thing, which appears to be unanimous (spelling is not my strong suit, so I'm just assuming that's correct). Either people who didn't like these shoes didn't vote out of sheer horror or these are very cute shoes. I'm going with "very cute shoes".
(note: clicking will take you to Zappos.com)
And then, I turned around and didn't buy them. Doh! See, the Clarks at Zappos.com that I thought were
really
cute were completely sold out in all sizes but 5 and 10. I'm taking that to mean they're popular. But then it occurred to me that I had a $65.00 credit at Dillard's. I went in and Lo! and Behold! There they were in my size. So I bought them instead. Since they were only $69.00 (compared to the $100.00 Zappos was asking) and I had a $65.00 credit... well, heck! It was practically like free shoes!
No really. It was like FREE SHOES. It does
not
matter that I had already paid that $65.00 last summer. Seriously. That's how it works. The shoes were
free
. Lalalalala... I can't hear you saying that I already paid that money last summer... Lalalallalala. Free shoes!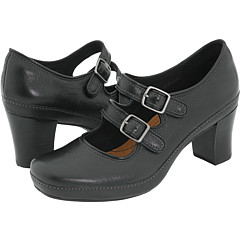 (note: clicking will take you to Zappos.com)
So anyway, I have shoes.
And thanks for all your votes! I am soooo excited about my free shoes!
Oh and they are
super
comfortable, if anyone needs some "I have to stand around on my feet in 2-inch heels all day" shoes. I can't guarantee you'll get them for free, of course, but....
update: later that night
I happened to click on the link to make sure it worked... and thought "hmmm... I wonder how many they have left now?" Apparently the stock has been replenished, they now have a bunch of sizes. Go figure. Still, mine were free!